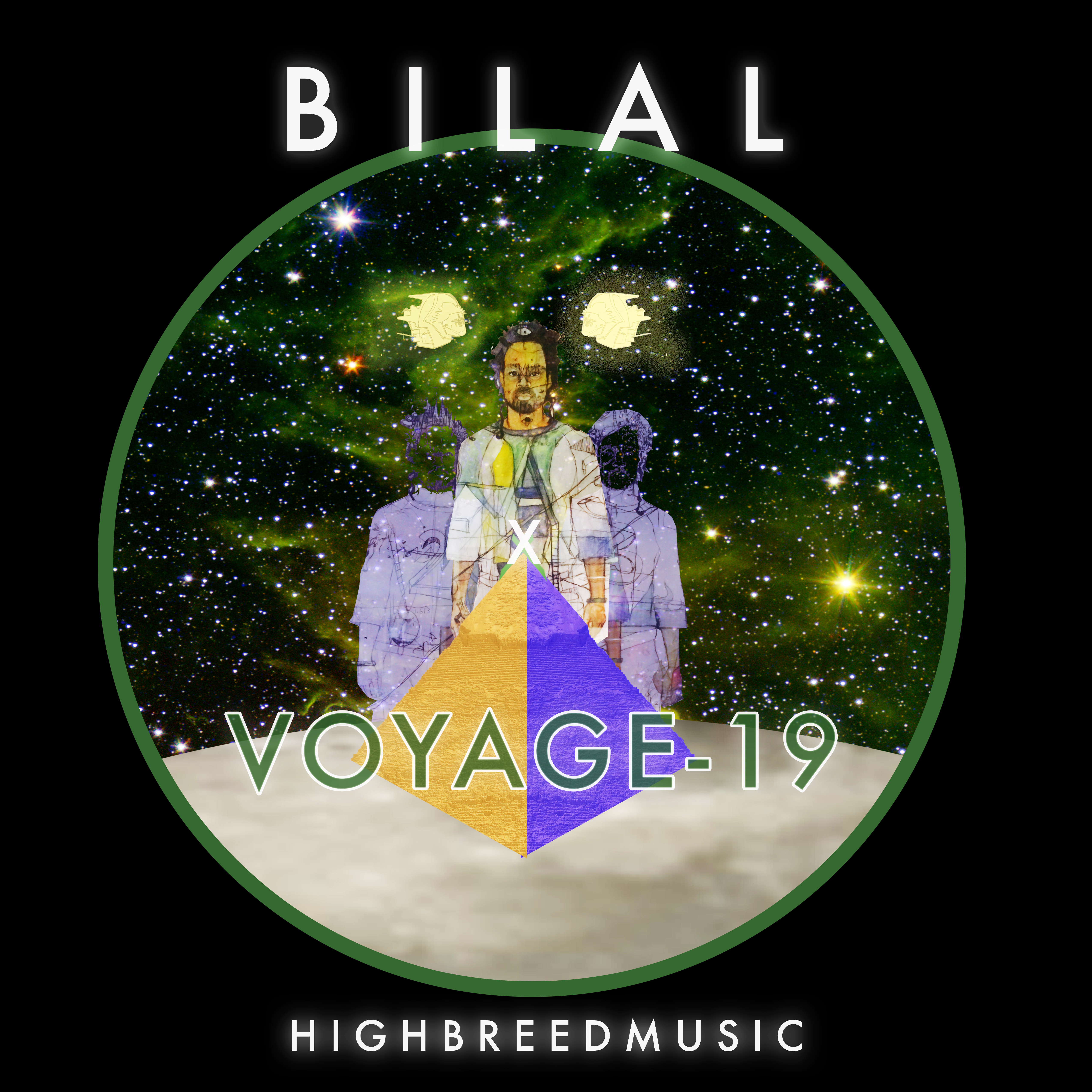 Watch again on YouTube:
https://www.youtube.com/highbreedmusic
Watch again on FaceBook:
https://www.facebook.com/BreedingTheGround/
On Aug 7th-9th, 2020, an unprecedented and extraordinary live event made recording history. For 54 hours, the world watched as legendary Grammy-winning artist Bilal (Musician, Actor, Composer, Producer, Vocalist), an original member of the iconic Soulquarians movement, Record Producer Tariq Khan (Slingbaum: Erykah Badu, FKA Twigs; Blue Note Records), and 30 musicians and vocalists, remotely recorded and composed an experimental 3-song EP, part-by-part, from 30 different locations — in real-time.

Each participant recorded their contributions from the safety of their own homes — in real-time. This multinational interactive recording session was broadcast live with Bilal's creative process as the centerpiece, and used an innovative approach pioneered by HighBreedMusic (HBM) which combined several technologies to turn the isolation of the Covid-19 pandemic into an opportunity for collective creative expression. HBM, whose slogan is "The Artists That Artists Love," is a forward-thinking Black and minority–owned studio and cultural hub in Brooklyn, NYC, run by founder Tariq Khanand Grammy-winning Videographer Nikki Birch (Snarky Puppy, Emily King, Cory Henry). 

The album was released on Bandcamp on Sept. 6, 2020 and features an all-star lineup of artists, including Bilal's long time friends and collaborators Erykah Badu, Robert Glasper, Chuck Treece (of The Bad Brains), Tone Whitfield, and Philly-based MC Khemist, along with members of HighBreedMusic's extended family, including Keyon Harrold, Madison McFerrin, Nick Hakim, Cory Henry, Simon Mavin (of Hiatus Kaiyote), Jaime Woods, Marcus Strickland, Ray Angry (of The Roots), Ben Williams, Brandee Younger, BigYuki, Melanie Charles, Marcus Gilmore, and Louis Cato and many more.

If you'd like to support this project and all the artists involved, make a donation of any amount by clicking the donate button below.


Bilal
masterfully guided the experience as musical director, producer, and vocalist, showcasing the fascinating progression of an initial idea to a finished album. The artists came together in a virtual green room that recreated the atmosphere of a studio session. They reminisced, laughed, wrote, recorded, produced, and mixed a brand new song each day. Viewers enjoyed rare access to the traditionally private world of song creation and album production –
for free
. They were also able to observe as  visual artist,
Angelbert Metoyer
, created artwork for the EP – while the music was being recorded.
The three-day event was an incredible opportunity to watch the magic and camaraderie of some of the music industry's most exciting artists working together, using new technology, to reflect the current times.
VOYAGE-19 was released on Sept. 5, 2020 on Bandcamp
. Fans are also encouraged to
support the project with donations
. Proceeds from EP sales and donations are being shared among participating artists, many of whom, despite being accomplished career professionals, are facing financial uncertainty due to the Covid-19 pandemic.
To purchase  the innovative concept album, "VOYAGE-19",  visit www.voyage19.com,  click here or on the image to the right or at the bottom of this page.
If you'd like to
support this project and all the artists involved
, make a donation of any amount by clicking the donate button below.

The Bilal x HighBreedMusic Live EP Experience was broadcast on Aug 7, 8 and 9. You can watch  again by visiting:
HighBreedMusic's
Facebook
,
Instagram
, and
YouTube
accounts
+ Bilal's
Facebook
and
Instagram
account.
Participants included:
Erykah Badu
Robert Glasper
Keyon Harrold
Tone Whitfield
Chuck Treece
Madison McFerrin
Yahzarah
Khemist
Ray Angry
Brandee Younger
Chris Rob
Anu Sun
Melanie Charles
Marcus Gilmore
Simon Mavin
Joe Blaxx
Special Thanks:
Associate Producer: Nikki Birch
Event Consultant: Jill Newman Productions

As an added bonus, HighBreedMusic announced its brand new app (available Fall 2020 on the Apple App and Google Play stores). Pre-order for the app is available right now by clicking here. As an early pre-order gift, users will have access to an exclusive  3 month basic membership.  The app features a celebration of exceptional and diverse voices whose music embodies HBM's core values: originality, authenticity, virtuosity, and timelessness.

Use the app to watch upcoming live stream Hi-Fi HD concert events from HBM's "The World's First Recording Lounge", and explore a rich catalog of artist-interviewing-artists + time-released video content from over 100 acts (which include many of the artists featured in Bilal's new EP experience). A unique feature of the app will allow users to financially support artists of their choice within a vibrant community of Black, Brown, Latin, Minority, and Women artists via donations and song/EP downloads of music produced with the artists at HBM.